Top 50 Best Countries to Visit
I have visited every country in the world (before turning 28), and more than 1,500 destinations since I went alone to Egypt at the age of 17. It is difficult to make a top list of the best countries to visit, but below are 50 of my favourite countries based on my experiences with more than 3,500 days of travel so far.
I have visited all of South Africa's provinces and spent almost five months visiting many destinations in the country. My favourite city in the world is Cape Town, and my favourite region is the Western Cape. I have also experienced three great train journeys, The Blue Train, Rovos Rail and the Shongololo Express, which were all very impressive. I have experienced extraordinary safari experiences in Krüger National Park and Sabi Sands and stayed over a month in Johannesburg, which is my favourite underrated city in the world.
The food is fantastic, and my favourite restaurant in the world is probably The Test Kitchen in Cape Town. I also spend a good amount of time chasing some of the difficult African visas in Pretoria. South Africa has excellent value for money and a lot to offer. South Africa is a diverse country where you could travel for years and still have exciting things left to see. A worthy candidate for the best country in the world to visit.
I have spent over ten months in this small Baltic country, where I lived in the Old Town of Tallinn (UNESCO World Heritage Site) for eight months during the pandemic. I have visited many cities, towns and islands. Tallinn, Hiiumaa, Prangli, Viljandi and Vormsi are my favourites, while my visit to Narva was one of the most interesting experiences.
I find Estonia surprisingly similar to Scandinavia, with Saaremaa and Hiiumaa being similar to Thy, Denmark, where I grew up. Estonia offers some of the best value in Europe, great hospitality, excellent food, and many lovely travel experiences.
A former German colony under the name German South West Africa. I came to Namibia by train on the Shongololo Express and had many great experiences in the country. I stayed with locals in the capital, Windhoek, and I went to the famous Namib desert and enjoyed the extraordinary Sossusvlei.
Namibia has some of the best nature and natural landscapes in the world, and it is the second least densely populated country on earth. It has many similarities to South Africa but is a lot safer. Namibia also has fantastic infrastructure and friendly people. An amazing country to visit.
New Zealand is an extraordinary country with stunning nature, great food and relaxed culture. I've had some great hitchhiking adventures here, including my first big trip, almost 200 kilometres with six different cars, before finally reaching the beautiful remote Grasmere Lodge.
Queenstown is stunning and one of my favourite towns in the world, but it is the extraordinary nature experiences that make me rank New Zealand among the best countries to travel to. Since this is a list of favourite countries, not separating territories, I would also like to mention the Cook Islands, which is technically part of New Zealand. I especially liked the island of Aitutaki, which I consider one of the most beautiful in the world.
The best country in the world for food, but Italy has so much more to offer. I've visited more than 30 destinations in Italy, with the Amalfi Coast, Assisi, Rome, Sicily and Tuscany being my favourites. Great value for money if you go to the right places. Fantastic people and culture. There is nothing like Italy!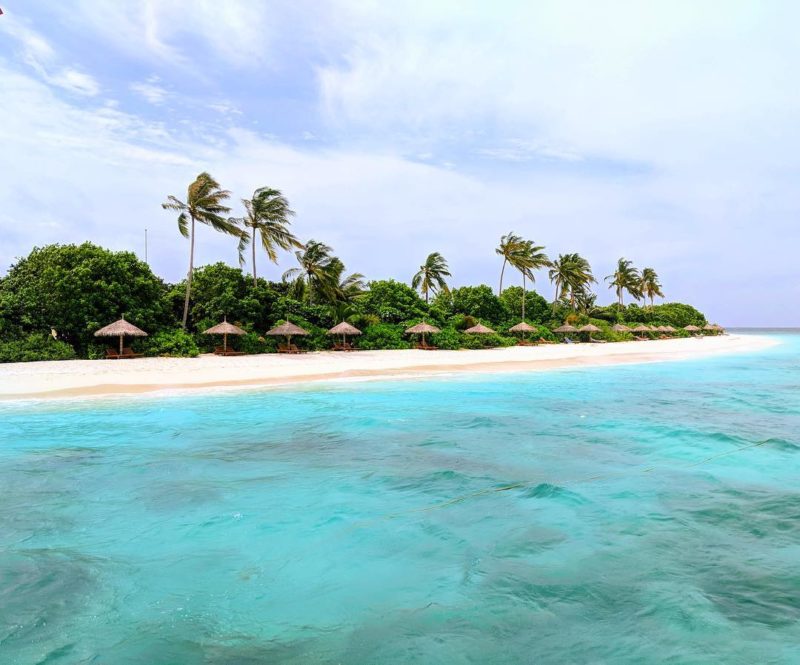 I've been to over 60 private island resorts in the Maldives, including some of the best in the world. The best experiences included Gili Lankanfushi, Soneva Fushi, Six Senses Laamu, and being on a Four Seasons cruise. I also visited some of the local islands, but it is the stunning private island resorts that make the Maldives special and unique.
In 2009 I visited Australia for the first time using primarily Couchsurfing and Tiger Airways, the low-cost carrier to get between different destinations in the country. On my first trip, I visited Perth, Adelaide, Melbourne, Tasmania, Sydney, Canberra, Gold Coast Brisbane and other places in Queensland. I loved the laid-back culture, food, nature and the fantastic cities of Perth, Sydney, Melbourne and Brisbane, which are four of my favourite cities.
Unfortunately, it is a costly destination but an extraordinary country to visit. I returned to Australia in 2011, 2015 and 2018 and had more amazing experiences. I visited their stunning Indian Ocean territories of Christmas Island and Cocos (Keeling) Islands, where I was especially impressed with Direction Island (photo above), which beach was voted the best in Australia in 2017.
I love my country for both living and travelling. It is one of the best countries in the world for quality of life. For travel, there are a lot of countries with a lot more to offer, but we actually have enough for several months of travelling. We are much more than Copenhagen, which for me isn't the highlight of Denmark, and very different to Jutland, where I grew up. Besides our capital, we have almost 80 inhabited islands, of which I have visited more than 50, and visiting islands is something I really enjoy. Anholt, Avernakø, Bornholm, Christiansø and Livø are all well worth a visit.
If you like Copenhagen, we have three other cities with more than 100,000 inhabitants, Aarhus, Odense and Aalborg. They all have great attractions and food. We also have beautiful and famous castles (Frederiksborg Castle in the photo above), great national parks, theme parks and a lot more. We are a great country to visit, but unfortunately, one of the most expensive and I understand if Denmark is not at the top of your list for this reason.
This is a list of countries which helps Denmark rank high. The Faroe Islands and Greenland are not independent countries as per the United Nations, and it is two fantastic travel destinations in addition to the mainland of Denmark. I visited both in 2013 and would very much like to visit them again.
Because of its extraordinary territories, I rank the United Kingdom as one of my favourite countries. I visited South Georgia Island (photo above) and the Falkland Islands on a Silversea cruise, which were extraordinary experiences. In the Caribbean, the territories Anguilla, British Virgin Islands, Cayman Islands, Montserrat, Turks and Caicos Islands are all lovely, as well as Jersey and Guernsey in the Channel Islands, Gibraltar and Bermuda in the Atlantic Ocean.
The countryside is fantastic, and I've had great experiences in England, Wales and Scotland. Thinking about the UK, I would be most excited to explore more of Scotland, my favourite part of mainland Great Britain.
I have travelled extensively in the United States, visiting more than 50 destinations, 36 states and the territories of American Samoa, Guam, Puerto Rico, Saipan, St. Croix and Tinian. With America, it depends a lot on where I am. There are many wonderful experiences to be found, but also a lot of places that didn't impress me. Alaska (photo), and New York City are my two favourite places so far. In recent years, America has become extremely expensive for travel, and that means the overall impression of travelling in America has dropped for me.
11. Iceland
The country in the world that feels most similar to Denmark, in my opinion. Iceland was part of Denmark and is the only country outside Denmark that teaches Danish in schools. I would probably rank it even higher if Iceland were a cheap country. It is an expensive country, but one of the most beautiful in the world, with outstanding nature experiences, friendly people, fantastic food (Restaurant Dill is one of the best restaurants I have experienced in the world) and has been ranked as the most environmentally clean country in the world.
12. Norway
If Norway was a cheap country, it could be even higher on the list, but it is unfortunately very expensive, and one of the reasons I haven't seen more of this stunning country. I visited Norway for the first time with my family as a kid and later went back a few times myself. The beautiful countryside with extraordinary nature makes Norway one of the best countries in the world to travel to. Of all places I have been to, the remote Svalbard island and its "capital", Longyearbyen, made the biggest impression on me. Longyearbyen is the world's northernmost settlement, with a population greater than 1,000.
13. Ireland
Ireland is a fascinating country to visit. Its capital, Dublin, is not one of my favourite cities. Instead, the countryside and the friendly people make Ireland special for me. Since Ireland is one of the more expensive countries, I decided to hitchhike several times in the country, but it made my adventures there even better. I found the Irish people talkative and very friendly. Ireland was also one of the countries I found most similar to Denmark, and as they speak English, Ireland feels easy and homely to travel in.
14. Canada
Canada is a very big country with a lot to offer travellers. I would like to have travelled a lot more in Canada than I have. Montreal, Toronto, Quebec City, Vancouver, Vancouver Island and the stunning Prince Edward Island is about it. Based on those experiences, I rank Canada as one of my favourites, but if I get to experience a lot more of the country, I might rank it even higher in the future. Definitely very impressed with my first visits.
15. France
I visited France for the first time as a 12-year-old in 2000 with my family and experienced Tour de France on Mont Ventoux that year. I have since travelled to France with my school, several trips alone and later a few trips with my girlfriend, who is now my wife. I asked her in front of the Eiffel Tower if she would marry me, and she accepted.
France has given me many memories. It's one of the easiest and most enjoyable countries to make a road trip. I find it easy to drive in France and the countryside is fantastic with many things to do and see. France is my second favourite country in the world for food, and I have experienced some of the best meals of my life in France. There will always be things to do in France, and it's a country I would like to visit many times in the future. France also has impressive remote territories like Reunion, New Caledonia and St. Pierre, which I really enjoyed. Bora Bora didn't meet my expectations, but I enjoyed other places in French Polynesia. Their Caribbean islands are stunning, with Saint Barthélemy being the best, in my opinion.
16. Thailand
My favourite country in Asia if we consider the Maldives an Indian Ocean country. I have spent around 10 weeks in Thailand over several visits and had many great experiences. I find the Thai people some of the friendliest in the world. The value for money is great, the service is fantastic, and there is a lot to see. My favourite destination is the island of Ko Kut, but there are many other lovely places in different parts of the country.
17. Seychelles
I spent a month in the Seychelles and stayed at North Island and Frégate Island. Two of the most exclusive resorts in the world. I have visited the three main islands of Mahé, Praslin and La Digue, and other beautiful islands such as Bird Island and Desroches. All stunningly beautiful and with a relaxed atmosphere. My best visit was the first one in 2009, but since, Seychelles has unfortunately changed into a mass-tourism destination instead of being a much more exclusive one.
18. Portugal
I first went to Portugal at the age of 17 and visited the three biggest cities, Lisbon, Porto and Braga. At that time, football was a big interest, and I saw several matches such as Benfica – Liverpool in the Champions League and Benfica – Porto in the Portuguese league. I have since visited much more of the country, and my favourites are now Algarve, the Douro Valley, Madeira and the Azores. Stunning destinations with some of the friendliest people in Europe, if not the whole world. The value for money is fantastic compared to other European countries.
19. Indonesia
Indonesia is a very big country with a lot of different cultures. The travel club, Travelers' Century Club, split the country into seven different parts in their list of countries and territories. I visited all of them, and the most famous destination is by far the best, in my opinion. I have spent over a month in Bali, and it's one of the best destinations in the world for an outstanding holiday with fantastic natural beauty, world-class resorts, excellent service, friendly people and extraordinary value for money.
20. The Netherlands
I have spent more than a month in the Netherlands. Amsterdam is one of the best cities in the world, in my opinion, the countryside is stunning, and their islands are lovely. I liked the Dutch Caribbean islands of Aruba, Bonaire, Curacao, Saba and St. Maarten, while the Wadden Sea islands of Texel, Vlieland, Schiermonnikroog and Terschelling are some of my favourite islands in Europe. Two of my favourite restaurants in the world are Dutch: Samhoud Places in Amsterdam and Inter Scaldes in the province of Zeeland.
21. Sweden
Sweden is home to two of my favourite cities in the world, Gothenburg and Stockholm. Gothenburg is a cheap ferry ride away from Northern Jutland, the region in Denmark where I grew up, while Stockholm is one of the most beautiful cities in Europe, if not the world, with its stunning archipelago. I have also done road trips in Sweden and enjoyed the stunning countryside. It feels very similar to Denmark and is a country I would like to visit again and again.
22. Botswana
One of the best countries in the world for safari. I spent a week and had extraordinary safari experiences in Okovango Delta, Moremi Game Reserve, and Chobe National Park. They are very exclusive and not the best value, but they are definitely impressive.
23. Finland
Finland is similar to Estonia but much more expensive and, thereby, a less attractive country to travel to. I've been twice and been impressed, but a lot more travel is needed to have fully explored the country.
24. Rwanda
Rwanda is known as the land of a thousand hills and was probably the most surprising country in my travels. I didn't have high expectations when I first arrived in Rwanda, but it was fantastic. The infrastructure is fantastic by African standards, which was surprising. I first travelled from Kigali to Gisenyi and back. Then from Kigali to Bujumbura, the capital of Burundi. All trips were spectacular, with stunning landscapes. Kigali is historically interesting and cheap to get around by public motorbikes.
25. Spain
Spain ranked as the second most visited country in the world based World Tourism Organization's list of tourist arrival in 2018. It's easy to understand why Spain is popular. Excellent weather, beautiful islands, great beaches, fantastic food, exciting cities, and impressive sights.
I have travelled a lot in Spain, and my experiences have varied a lot. I like staying away from mass tourist destinations (like Ibiza and Menorca, which didn't impress me much) and prefer quiet places in the countryside. That said, I have visited more than ten cities in Spain and enjoyed exploring the cities on foot. I have included Spain because of the food, countryside and many things to do and see. I consider Spain to be the third-best country in the world for food after Italy and France. You could travel within Spain for many years and still find things to do. On my most recent trip, I visited Menorca, Ibiza and Formentera for the first time.
26. Switzerland
It is one of the most expensive countries in the world, but the stunning nature and scenery make it one of the best. I have visited Bern, Zürich, Geneva, Lugano and Basel, as well as the outstanding Swiss countryside with beautiful mountains. Definitely a country I would like to revisit.
27. Dominica
My favourite country in the Caribbean. Dominica has great value for money, stunning nature, landscapes, and friendly people. I like it a lot and would like to experience it a lot more.
28. Japan
There is nothing like Japan. A unique country with a unique culture and some of the friendliest people in the world. The world's biggest city, Tokyo, is fascinating. I have also visited Osaka, Kyoto, Kobe, the Japanese countryside and the remote territories of Okinawa and Ogasawara. Ogasawara is quite an adventure, reachable by a ferry journey of approximately 25 hours from Tokyo.
29. Zimbabwe
I arrived in Zimbabwe on the famous Rovos Rail train and had a lovely time in Victoria Falls for six nights, staying in six different places. I experienced great safaris and a helicopter trip of the famous Victoria Falls waterfall. Zimbabwe is not the most attractive country due to logistics and a limited amount of flights compared to, for example, South Africa, but I would like to visit the country again and know it better. The first visit was fantastic.

30. Palau
With a population of just over 18,000, Palau is one of the smallest countries in the world after gaining independence from the United States in 1994. Palau turned out to be a fantastic experience with stunning natural beauty and with a friendly, trustful population. It was probably the easiest country in the world to hitchhike, and it was a great way to get around. I might never get to go back to Palau (it's remote and expensive to get to), but I was impressed with my visit, which left me with great memories.
31. Brazil
My wife is Brazilian, and getting married to her in her hometown, Sanharó, in front of around 400 people was one of the best experiences of my life. I have visited over 25 destinations in Brazil and spent over 100 days. My favourites are Rio de Janeiro (one of the most beautiful cities in the world) and Fernando de Noronha, a stunning volcanic archipelago about 350 kilometres off Brazil's northeast coast.
32. Bhutan
According to GNH, Bhutan is the happiest country in the world and the only country with a fixed daily cost. Its unique culture, stunning unspoiled nature and friendly people make it a very special country to visit. It's very expensive, and that's the main reason I have only been to Bhutan once.
33. Sao Tome and Principe
This former Portuguese colony is located in the Atlantic Ocean and is a beautiful small country with the smaller Principe island ticking the boxes for a stunning, remote and adventurous island experience.
34. Peru
Peru is a fantastic adventure. I had great experiences in Lima, Cusco, and the Sacred Valley. I arrived at Machu Picchu on the famous Hiram Bingham train and saw this stunning sight, which is one of the most impressive I've seen anywhere in the world.
35. St. Lucia
St. Lucia is a stunning small Caribbean island which felt adventurous. I stayed at the stunning Jade Mountain resort with views of Piti and Gros Piton mountains, which was one of the best experiences I've had in the Caribbean.
36. Mexico
A stunning country with friendly people and a lot to experience. I have been to the Cancun/Playa del Carmen area, Mexico City and San Miguel de Allende. That's about it, and it's only a little of what Mexico has to offer. I would like to experience much more in the future, which might impact my ranking of Mexico.
37. Yemen
In 2014, I visited Yemen as part of my project to visit every country in the world. It required a lot of planning, but it was an outstanding travel experience. First, I spent three nights in the capital, Sana'a, a city with unique architecture, where I experienced a lot. After Sana'a, three nights followed on Socotra Island in the Indian Ocean, which is a UNESCO World Heritage Site and one of the most beautiful I have been to in the world. I might never go back to Yemen, but I was very impressed with my experiences during my first and only visit.
38. India
India is a fascinating and unique country to travel to. I have spent around six weeks in India and had some fantastic, unique experiences but also bad ones. The worst was in the Andaman Islands, where I got severe food poisoning and was very sick. My best experiences were in Rajasthan, Agra, Goa and Kashmir. I also visited New Delhi, Agra, Mumbai, Chennai, Bangalore, Goa, Darjeeling, Gurgaon and Udaipur, where I stayed at the famous Taj Lake Palace.
39. Belgium
I have visited Belgium several times and experienced a lot there. Cities like Brussels, Bruges, Leuven and Tournai have impressive sights, while the countryside is beautiful and good for a road trip.
40. Tanzania
I have been to Tanzania a few times and have been very impressed. Extraordinary safari experiences and friendly people stand out. I stayed at Singita Grumeti Reserves, which Travel + Leisure has named the best hotel in the world on more than one occasion. It was an outstanding safari experience with outstanding accommodation. I also stayed at other beautiful properties on mainland Tanzania as well as on their stunning Zanzibar island, which I have visited twice.
41. Greece
Greece is a very popular tourist destination for Europeans, which is one reason I don't rank Greece higher than I do. Greece has fantastic food, great sights and stunning islands. I liked Santorini and Mykonos the most, while Athens is one of the best capital cities of Europe in my opinion.
42. Germany
I have travelled a lot in Germany and visited over 50 destinations in the country. It is a big country with a lot to do and see. My favourites are Berlin, Lübeck, Trier, Sylt and the Black Forest.
43. Laos
A great cheaper alternative to Thailand. The capital, Vientiane, was interesting, while Luang Prabang was one of the best cities I've been to in Asia.
44. Kenya
Another great country to travel in East Africa and one that is quite developed by African standards. I have visited Kenya several times and had great experiences. Hemingways, House of Waine and Hogmead in the Karen were all lovely, while I travelled far partly by uncomfortable public transport to reach Ngerende Island Lodge. I would like to experience more of Kenya again in the future.
45. Mauritius
I did 'resort hopping' in this Indian Ocean country and stayed at more than 30 beautiful properties in the country, seeing many beautiful spots, as well as visiting the remote Rodrigues island, which is one of my favourite islands in the world, and something that felt different; like arriving in another country. Mauritius is an expensive destination, but there are great value rates at some of the resorts in the low season.
46. Argentina
I have visited Argentina twice and been impressed with Buenos Aires and Ushuaia. Friendly people, excellent food and a lot to do and see. I would like to experience a lot more of Argentina in the future.
47. Nicaragua
Costa Rica or Nicaragua? I recommend both, but I would pick Nicaragua for better value for money and for the amount of things to do and see. I enjoyed Granada, which is said to be the oldest colonial town in Latin America, as well as Jicaro Island, San Juan del Sur and other parts of the country. I think Nicaragua is a worthy candidate for a top 50 list of the best countries to visit in the world.
48. Austria
Beautiful historic cities and stunning countryside. Austria is a great country to travel to and a country similar to Germany and Switzerland, which are also part of this list.
49. Vanuatu
Vanuatu is one of my favourite countries in the Pacific. It's naturally beautiful, has some of the friendliest people, and stunning nature, including fantastic beaches. Besides visiting Efate (the island of the capital, Port Vila), I took a domestic flight to Espiritu Santo and visited the remote Ratua Private Island, which was an extraordinary experience.
50. Montenegro
My favourite country in the Balkans. I stayed at the lovely The Chedi Luštica Bay for almost three months during the pandemic and experienced a lot of beautiful sights in different parts of the country. 

Is your country not on the list?
It's not easy to pick 50, and I think it's possible to have amazing experiences in any country, depending on the people you meet and the places you go. This is more of a list of countries I overall enjoyed the most and would like to visit again. Iran probably had the friendliest people, and the most different country was North Korea, but I am not planning to visit them again.
Favourite countries might also change over the years. The experience of visiting a country can change a lot in just a few years. The first time I went to Seychelles, it had fewer tourists than it had on my last visit. Fewer tourists often equal a better travel experience, at least in my opinion.